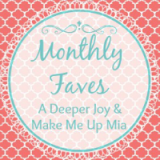 Ugh! I can't believe this month is over already! The winter is coming so fast and I am not ready for it at all. Although October through December are my favorite months holiday wise, I hate the weather that comes at the end! October was an absolutely beautiful month here in Illinois, but I fear it will soon take a turn for the worse! Last year our first day of snow was on 10/22 and it
didn't
seem to quit after that. So, onto the favorites:
Let's be honest, we are all a #basicwhitegirl deep down inside. We love pumpkin spice ANYTHING, we love our scarves and Uggs and leggings and Northface jackets. It's ok, I'm proud to be a basic bitch. One thing I found this year that I've never tried before, these Pumpkin Cheesecake cookies and they are fabulous! I ate the entire bag in 2 days. Ooops!
Two. Panera Hazelnut Crème K-Cups
I love hazelnut coffee with hazelnut creamer and 1 Truvia, that is my ideal cup of coffee. I've tried many a hazelnut K-Cup in my life too, but these Panera ones are extra yummy! I've been trying to avoid artificially flavored things, but my coffee and my creamer I don't think I'll ever be able to give up!
Three. Scarves
Of course the Zara scarf seems to be the most coveted of the plaid blanket scarves, but I was at Old Navy a couple weeks ago and found something sort of similar. I love the cream, red, and grey plaid and I can't wait til it gets cold enough to warm up with it! I'm also totally obsessed with this crocheted infinity scarf I found it a my favorite local boutique, CNJ Style! I love the wine color too, perfect!
here's the Zara scarf, so cute!
Here's mine... sorry I'm not a fashion blogger, this is the best you're gunna get! I couldn't find the exact one online, but here are some similar. These actually say mens, but I bought mine in the women's section.
here's the crocheted! so cute and warm!
Four. Weather
October weather is just to die for. I mentioned it up top, but it definitely deserves a spot on my list. It was a little all over the place in terms of temperature, but
we've
had some really beautiful days in the 60's and 70's with the sun shining, it's those last few nice days before winter rears its ugly head. Unfortunately, the nicest weekend of the month we were working on the house rather than being out on the bike enjoying a last cruise. It's been stunningly beautiful down at our new house. We live right on the Vermillion River, and I definitely cannot complain about the scenery.
Five. LP SmartSide
I have to say, I'm really happy and impressed with my choices of colors for our house. They are turning out beautifully together & and I cannot wait to see the outside completely finished. I'm so in love with our siding and so happy that we decided to go with the wood rather than the vinyl.
I'm so happy with the way the garage & front door pops with the color of the siding.
These 3 gables will be done in a sand colored shake! So excited!
This is probably the truest picture as far as color goes, it's called Montana Suede.
I apologize for the short list! Happy hump-day everyone!