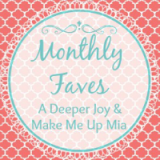 Another month from the calendar! Getting really close to fall & really close to pulling out all of those sweaters, leggings, and boots from the remainder of the year.
Linking up with the lovely
Mia
and
Kelli
for another installment of my monthly faves!
One.
Curves Infuser Water Bottle
This thing is so amazing, and for $10 that makes it even better. I've been putting frozen strawberries, lemons, and mixed berries in it so far & it's been wonderful. Love the little bit of flavor it adds to the water without being too overwhelming. I probably refill this thing 5+ times a day. Loving it!
I will probably have this on my list of September monthly favorites because I know I will get so much use out of it once the temps start to cool down. I can totally picture it over a v-neck tee, a pair of leggings, and a pair of cute boots. Perfectly comfy for work too!
I got this in my August Ipsy bag and it's probably my favorite item from the month. It goes on so well & I love the purple color. I have several plum colored Bare Minerals and Simply Beautiful eye liners, it's probably my favorite color of eye liner to wear with a really light, shimmery white or lavender colored eye shadow.
Five. Our House!
In August we went from this (taken on August 1st) to this... taken September 2nd