Can't believe we're crossing another Friday off of the 2013 calendar! I'm linking up with the fabulous ladies hosting Five on Friday!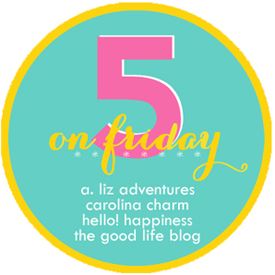 One. VEGAS!
So unbelievably pumped for this weekend in Vegas! We actually leave tonight at 8pm from Peoria & will arrive in Vegas about 9:30 (time changes in there somewhere!). I'm so excited for Matt & Kassi to finally be tying the knot! This trip is going to be a very special one. Really excited to see what's in store for their special day!!
Two. New Hair.
Yep, again. This time it turned out how it was supposed to turn out last time (got that?) I LOVE the way it turned out. It's perfect. It's more violet than red, these pics just don't do it justice. My friend Jen is such an awesome stylist. She did a great job, once again. I would love to do this color all over, but I'm not sure that I'm ready or willing to make that kind of commitment. It's hard to go that dark then go back to blonde, but it would be gorgeous!! Should I take the plunge?
Three. Next Appointment
Next Tuesday the 5th is our next appointment in Peoria with Dr. G & I can't wait. Luckily this week has flown, this weekend will be a whirlwind of fun, & Tuesday will be here before we know it! I believe that the next step is getting me on Clomid and having us try to naturally conceive, that's the preferred method at least. It is possible that we may end up scheduling IUI (artificial insemination), but I think that could take place after 4-6 failed rounds of Clomid. Let's keep our fingers crossed that we will have ONE successful round of Clomid!
Four. O.P.I. Avojuice
Tis' the season for dry skin. I have like THE worst cuticles ever, they're always dry & I tend to pick at them quite a bit, but this time of year they're even worse! I've tried hundreds of different lotions as I'm sure we all have, but I've found the least greasy, most quickly absorbed lotion to be O.P.I.'s Avojuice line. They make the best scents, right now my favorite is
Sweet Tea
, & their seasonal scent
Winter Huckleberry
is perfect for Christmas time. I just bought three of the Holiday Collection on Wednesday, Huckleberry, Holly Berry, & Ginger Lily, they all smell so amazing! I keep a few bottles of these at work & at home at all times. Another product that I always use before I put lotion on my hands is O.P.I. Avoplex Nail & Cuticle Oil. I keep a bottle of this at work and at home as well. Using them together makes my hands feel silky smooth & as soon as I put it on & get it rubbed in, I can go back to typing on my keyboard and not end up with greasy finger prints all over.
winter huckleberry, holly berry, & ginger lily
Five. Adorable Giveaway from Bigley Photography
How stinkin' cute are these banners?! Jess Bigley is an awesome photographer & super creative chick who is always posting her photography, her handmade crafts, & adorable pics of her cat Jezibel in cute outfits & poses on Instagram (@jessbigley). I always look forward to see what she's going to post every day. At the end of November Jess will be giving away not one, but three (design of winners choice) of these amazing banners that she hand crafts. To enter, like her photography page on Facebook,
Bigley Photography
, & share the Festive Giveaway picture. You can also enter on Instagram, simply follow @jessbigley & share the photo, be sure to tag her in the pic for your chance to win! These are probably the easiest giveaway rules I've ever seen so it's totally worth it!
enter her giveaway on
Facebook
or Instagram (@jessbigley)
here is some of her adorable work. I love the Library Love <3!

Happy Friday my friends!!