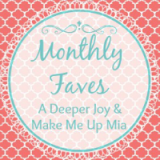 Thank you to the lovely Mia at Make Me Up Mia for hosting!
I've come to the conclusion that the summer is flying for just about everyone! Every blog that I've read has mentioned how fast the time is going… it really is sad! I miss when I was a kid and we had summers off and they felt like an eternity. They say it's because as you get older you learn the concept of time and that life really is short. What a horrible lesson!
July was a tough month since we learned that our first cycle of IVF did not work, but there were some really good memories too & I discovered some of my new favorite products thanks to things like IPSY bags!
I'm so glad that I finally decided to join one of these killer affordable monthly make-up subscriptions. I'm one bag in so I don't have a lot to go on, but I was really happy with what I got. The bag was just adorable, and all of the products were spot on except for the beach spray—not meant for people with straight hair!
Not sure if you guys know this, but Illinois recently put a ban on face washes containing plastic granules because they are bad for the environment and pollute the water. Way to go Illinois! I knew nothing about it until I read THIS ARTICLE. So I've officially began boycotting any products with plastic beads in them. I found this Pacifica face wash at Target and I love it. It smells like the beach, its vegan, cruelty free, sulfate free, and works like a charm!
Three. Dessert flavored Skittles
My TTC sister Jenna sent me these in a TTC care package and they are so good! Definitely my new fave!
Last month I raved about the SuperGoop! sunscreen, well this month I'm raving about their CC cream. It's fabulous! I love the coverage & the feel of it. It goes on really well, either stippled on with a beauty blender or stipple brush or with your hands, & it lasts all day too! I actually use a primer before I apply it because it can be a beast to get off!
Five. The sunflower field
I am sooo glad that we made it to see the sunflowers at Matthiessen state park. They were so beautiful. I kept seeing pretty much everyone on Facebook posting pictures and I just had to check it out for myself!
If you follow me on Instagram then you saw the photo of this already. I had mentioned it on a

Friday

Favorites post too, but once I finally got the real thing I was ecstatic. It got a ton of likes on Instagram too so I know that I made a good decision. It was quite the investment, over $650, but well worth it!
My list of favorites is short from July. With everything that we had going on we barely had time to do much of anything except for focus on our first cycle of IVF. We have some exciting stuff coming up in August so hopefully next month will be filled with a lot more excitement!